COMPANY HISTORY
Northwest Rags is a family owned and operated company that was incorporated in 1997 and began operations primarily as a used clothing and used footwear recycler. From early 1998 thru the end of 1999 we exported used clothing and footwear direct to the African market. We successfully shipped multiple container loads of these products until the African and Asian economic downturn in 1999 and 2000 dictated that we should pull our resources out of the African market.
During the next few years we concentrated on recycling used clothing and footwear for the domestic market. We also branched out into cutting quality white cotton painter's rags and colored shop rags for industry and the retail trade. We realized early on, that in order to carve a niche in the recycled rag business that we had to be more quality conscious than our competitors and more attuned to our customers needs. The market for colored shop rags has shown slow but steady growth over the years, while the white painter's rag market has shown rapid growth, particularly in recent years.
In early 2008, we began to private label for an Oklahoma based retail paint store chain. The private label has worked well for them, giving them name brand recognition at their customer's job site or workplace. At present we are cutting and packaging well over 100,000 pounds annually for them. Currently we do private labeling for mutable paint, hardware and lumber yards in our 4 state area. We anticipate considerable growth in our retail products over the next few years. In 2008 we also added "Ozark Recycled Wiping Rags" as our house brand of retail products. It has been well received.
We anticipate our future in the recycling industry will be to concentrate on quality recycled custom cotton painters and shop rags, private labeled or house labeled for small to mid-sized companies that want to provide a product that is proprietary and of exceptional quality and value to their customers. We are proud that our products are made in Northwest Arkansas and are providing jobs that would normally be exported from the U.S.
We presently operate in a 26,000 sq. ft. cutting, packaging and warehousing facility. We have recently expanded both our laundry and packaging operations. Our laundry operations will now process up to 26,000 pounds per week. Our rag cutting capacity currently is over of 15,000 lbs. Per week, and our facility will easily accommodate considerable expansion.
We are and will continue to be customer responsive in product type, quality, packaging, production and product delivery.
ENVIRONMENTAL IMPACT
The Northwest Rags environmental footprint is green in many ways. Recycling is at the very heart of our business and is always a company priority.
Our boxed products are packaged in recyclable boxes. Most of our products are shipped on recycled or rebuilt pallets and save energy and trees.
None of our operations emit any greenhouse gases or other substances harmful to the atmosphere.
Our power equipment is 3 phase where possible and uses less electricity than single phase equipment. Fabric dryers are natural gas fired and energy efficient.
A very small amount of the materials that we handle and process end up in a landfill. The cutting and processing of about 5,000 pounds of finished product per week generates less than 4 cubic yards of landfill waste per week, and that waste is 95% cotton fabric which decomposes rapidly. Raw materials which we do not process are recycled in large bales to companies that do process those materials.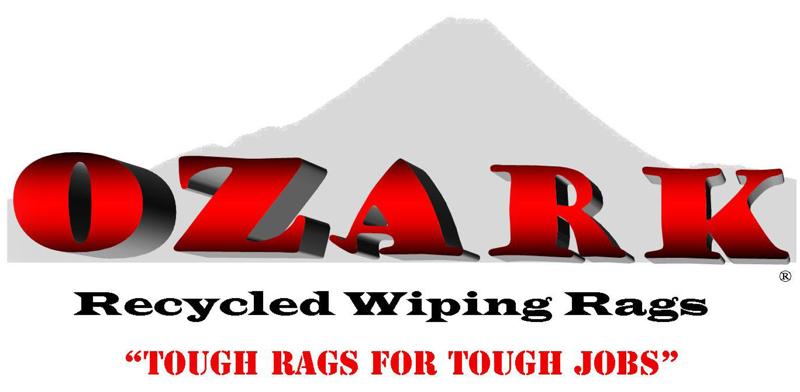 Contact Us
Phone: 479-927-5500
Fax: 479-927-5505
E-mail: Click here
Toll Free: (888) 511-RAGS
CALL TO ORDER
We would be happy to assist you on choosing the right wiping rag for your needs.
FREE delivery within 100 mile radius on 200 pound orders or more.
Give us a call!